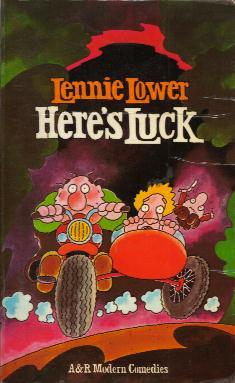 Humorist Lennie Lower, the author of Here's Luck, wrote regular columns for a range of journals and newspapers including the Australian Women's Weekly, Daily Telegraph and Smith's Weekly. In his column 'Off to the Olympic Games' (re-published in The Best of Lennie Lower, 1963), Lower imagines a scenario in which he is required to fill in for the many Olympic athletes who have suffered injuries on the eve of their performances on the world stage.
Undaunted, Lower limbers up:
My wife has nearly finished knitting me a hop, step, and jumper, and I have been practising the standing high jump at home. The standing high jump is the best thing I do. I just stand on top of the wardrobe and jump off. I am going to attack the world's record off the front veranda next Saturday.
He acknowledges that he's 'a bit out of form for swimming' as the weather has been 'too cold for training, and it's so awkward swimming in your overcoat', but he's confident of a win in the 'manly sport' of egg and spoon racing.
Pre-empting the entourage that accompanies the modern athlete, Lower (in less politically correct times) continues:
Getting down to hard facts, I want a masseuse. Blonde for preference. The situation is an honorary one, and applications will be received all next week. I also need a trainer, chaperon, manager, nurse and a driver of a steam roller (this last for the track events; the track must be in perfect condition for me to put up my best times).
All that remains is for the author to ponder 'how the devil I'm going to get my trophies home'.